Dimensions: 9*15mm / 10*20mm /15*26mm ( Three opinions for your choice )
Output:
LED Light SMD 2835 LED Chip named Epistar brand
Running Length Single feed: 20 meters based on 24V version
Light Surface profile ( Dome surface and Flat surface )
Lumen Maintenance 70,000 Hours L70 @ 25°C : 90,000 L50 @ 25°
50,000 Hours L70 @ 50° : 70,000 Hours L50 @ 50°C
Chromaticity Ordinates x: 0.4715 y: 0.4279 u: 0.2624 v: 0.5354
Color Bin Tolerances +/- 3 %
Efficacy (lm/w) 41.42/W , Lux : 393 Lm / meter
CRI 75-80
Electrical:
Input Voltage: 12 V , 24V, 110V, 220V Constant Voltage
Power Consumption 9 watts per meter
Power Factor ≤ 1
LED Count per meter / 22 per foot
Dimming 110-277v, 0- 10v & Magnetic Low Voltage
Physical:
Materials Polyvinyl Chloride (PVC)
LED Spacing 16.7 millimeter / .66 inch
Cutting Length 41.66 millimeters / 1.64 inches
Package Size: 33.5 × 33.5 ×39.1cm
Package Weight: 26 kilograms
Thermal Management Cool to the Touch, Free Air Convection
Fixture Connections Front & End Leader Cables
Bend Tolerances
Maximum Diameter 120 millimeters / 4.7 inches
(lateral bending only)
Temperature Ranges
Ambient -30° to 45° Celsius / -22° to 113° Fahrenheit
Operating -30° to 45° Celsius / -13° to 113° Fahrenheit
Humidity 0- 95% Non Condensing
Different shape and different size of led flex neon tube for options: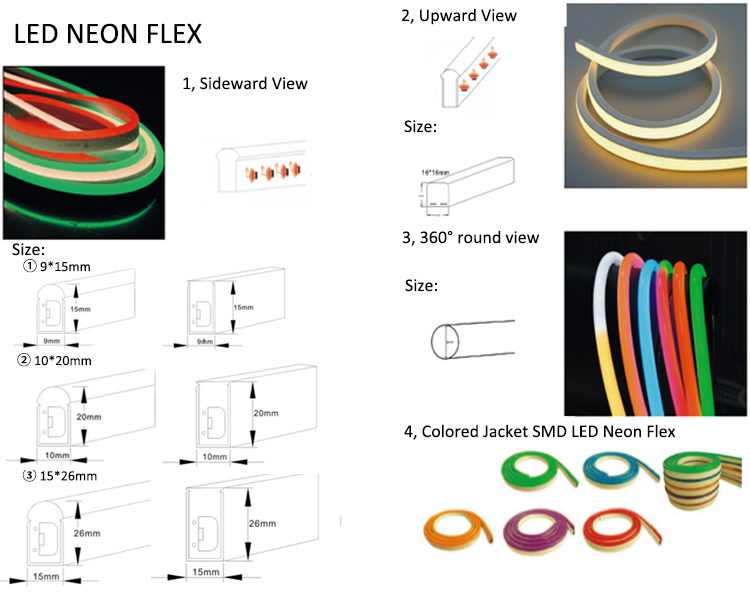 Internal Structure of LED neon rope lights: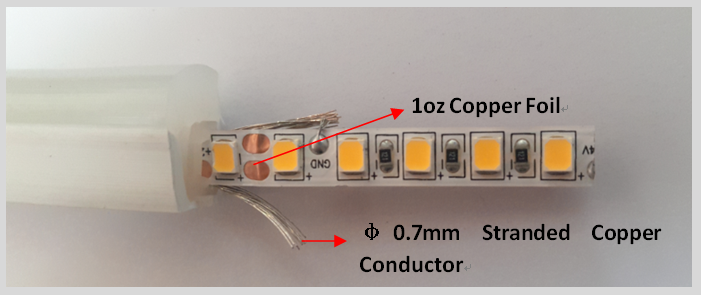 *** Why do we use the copper conductor?

Advantage: 1, Extand the running length to 20M~25M without electrical current drop.

2, Resist pulling force

Disadvantage: 1, Bring the increased cost of raw material

2, Bring the increased cost of labor




Most up-to-date technique applied to make sure the brightest light, stable quality and longest lift span

Minimum 4.17cm unit cutting length

Maximum efficiency and minimum project length to satisfy customized projects

Excellent flexibility, it can satisfy any requirement of construction





1, Following the cutting mark showed in picture
2, Cut at cutting mark using heavy scissors (recommended using garden pruning shears, hose cutters or box cutter), be sure to cut the line square and not on an angle
3, Trim loose wires, don`t forget to trim any loose wires hanging out, flush to the PVC with sharp side cutters or scissors.

4, Using a pliers hold connecting pin and insert the pointed end of the electrical pin into the end of neon flex, the pin must be installed on the right side or it will not line up with the end cap on the power cord.
5, Using silicone sealant glue, seal the power cord cap
6, Aligning the pins with the receptacle holes in the place

7, Locate the heat shrink tube
8, Using silicone sealant glue, seal the end cap
9, Using the heat gun, gently warm the heat shrink tube until it shrinks into its final resting places, after completed, seal around both ends of the shrink tube with silicone sealant glue.
Accessories of LED flex neon tube
Old version(IP65 rated):

Aluminum tracks: Silver color and Black color for your opitons:
Ⅰ, 5CM in length mini Aluminum Track for LED neon flex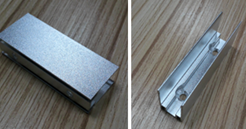 Ⅱ, 1M, 2M or 3M in length Aluminum Profile for LED neon flex

Installation method of old version LED neon light connections: